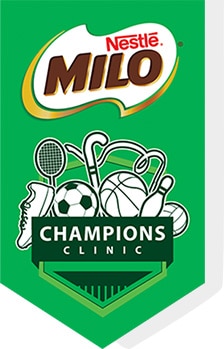 MILO® Champions Clinic aims to grant children the accessibility and opportunity to venture into Malaysia's' favourite sports. We at MILO® believe that kids can benefit greatly from sports through valuable life lessons that will help shape their character into a positive and successful individual at and out of school.
In line with our vision to shape a more active generation alongside parents and teachers, MILO® works closely with icons and national sports legends such as Rashid Sidek, Azman Adnan, Nazmizan Muhammad and Chiew Chun Yong to develop a module that's fitting for children aged 7-12 years old. 
EXPLORE MILO® CHAMPIONS CLINIC

Click on an icon below to find out more about each sport, their modules in detail, as well as your nearest locations.
WHAT DID THEIR PARENTS SAY?
"
Program ini adalah titik permulaan yang terbaik untuk anak saya pelajari taktik dan kemahiran serta nilai-nilai murni sukan bola sepak.
"
Ibu kepada Maximillian Hanifa Jabbar
"
Latihan daripada jurulatih bertaraf dunia dan pendedahan modul FCBEscola ternyata mengasah kemahiran anak saya dengan menguasai kemahiran asas bola sepak dan kemahiran teknikal bola yang dapat membantunya menjadi pemain yang unik di atas padang.
"
Bapa kepada Muhammad Muhaimin Izzat
"
Perkembangan sosial dan jasmani kanak-kanak amat penting buat saya. Perubahan yang ketara melalui program ini adalah anak saya kini lebih yakin dan selesa kerja berpasukan, hormati orang lain dan lebih bersemangat seperti seorang juara.
"
Ibu kepada Ahmad Shah Muhaimin Izzat
WATCH THE ACTION

See how your child can benefit from MILO® Champions Clinic.