Football is undeniably one of the sports that has captured the hearts of Malaysians. Through football, there are various values that can be cultivated including teamwork, discipline, unity and many more. In MILO® Champions Clinic, not only will your child be guided through training modules crafted by a national football legends, they also get the chance to train alongside esteemed FCB Escola coaches in Camp Nou!
| | |
| --- | --- |
| SESSION | 8* |
| DATE | Coming Soon |
| AGE | 7 to 12 |
| TOOLS PROVIDED | Jersey and football |
| FEES | RM120 per child |

*Only applicable to 60 children per location
Stay tuned for schedule dates for year 2020!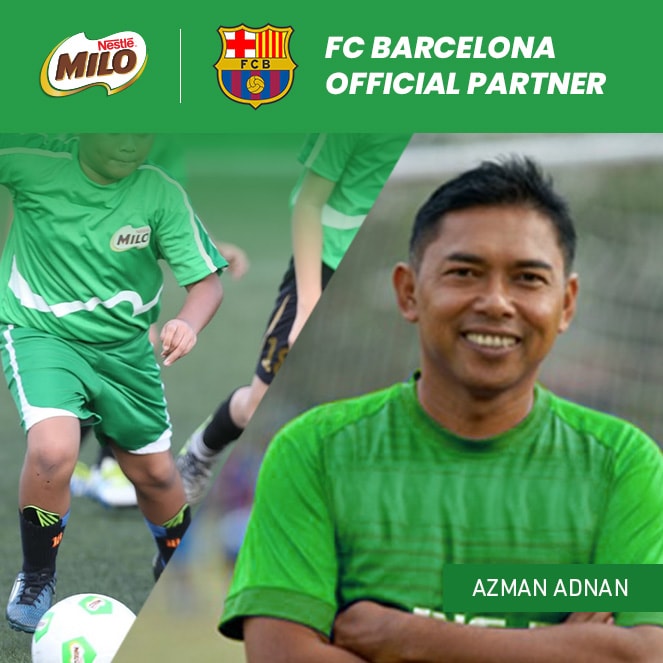 THIS MODULE WAS INSPIRED BY AZMAN ADNAN
"I am a firm believer that sports is one of our greatest teachers. I hope to be able to expose talents at grassroots level and build their skills through teamwork, discipline, and commitment." - Azman Adnan
ACHIEVEMENT
Former Malaysian National Team Player (1991-2000)
Malaysia Premier League Golden Boots, Champion (1999)
Pestabola Merdeka, Champion (1993)

CHARACTER BUILDING
Build self-esteem and self-confidence through practice and teamwork.

MOTOR SKILLS DEVELOPMENT
Improve coordination and muscle strength through drills and practice.

TECHNICAL SKILLS
Learn skills that will help elevate their sports technique.
LOOK BACK AT THE ACTION IN MILO® CHAMPIONS CLINIC FC BARCELONA EDITION
Catch the action of the young talents who had the opportunity to train under professional coaches in Camp Nou during the past MILO® Champions Clinic FC Barcelona edition. Will your child be one of them this year?