MILO® Aktif Negaraku is a mission to cultivate active lifestyle championed by MILO® in line with its purpose to make Malaysians active and healthy with nutritious energy and provide the inspiration to grow with sports. MILO® Aktif Negaraku endeavours to inspire Malaysians to go further with the determination to grow, be united and be bold together by keeping active.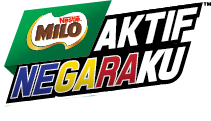 Nourishing Goodness
Fuel up your day with MILO® for the nutrients you need to take on your day.
Active Living
Train your skills, ignite your passion and get active with MILO®.