NEW LOOK, SAME GREAT MILO® TASTE!
For over 70 years, MILO® has nourished the nation with its choco-malty goodness and fuelled generations of champions with the energy to go further.
Now, MILO® comes in a new look which retains the same great taste you love. It's made with the goodness of barley malt, milk, cocoa, essential vitamins and minerals to keep Malaysians energised every day. The new packaging features homegrown athletes to empower your ambitions and bring out the champion in you. Grab the new MILO® packs today!
Buy now
MILO® less sugar eco-friendly pack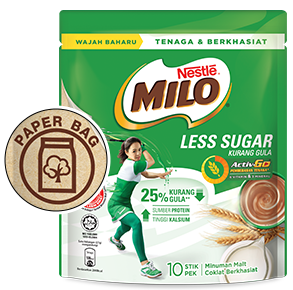 Introducing MILO® Less Sugar pack's new look made from environmentally friendly paper. We've innovated the packaging as a step towards a more sustainable world for tomorrow. Together, let's preserve the Earth by switching to paper packs today!
Find out more