WhatsApp & Win, it is that easy!
Buy it online, in-store or at your nearest kedai runcit. As long as it is stated in your receipt! Don't miss your chance to win some very exciting weekly prizes like MILO® X Pestle & Mortar Clothing limited edition items, Samsung Tab A7 & GRAB E-Wallet.

What are you waiting for? Let's join now!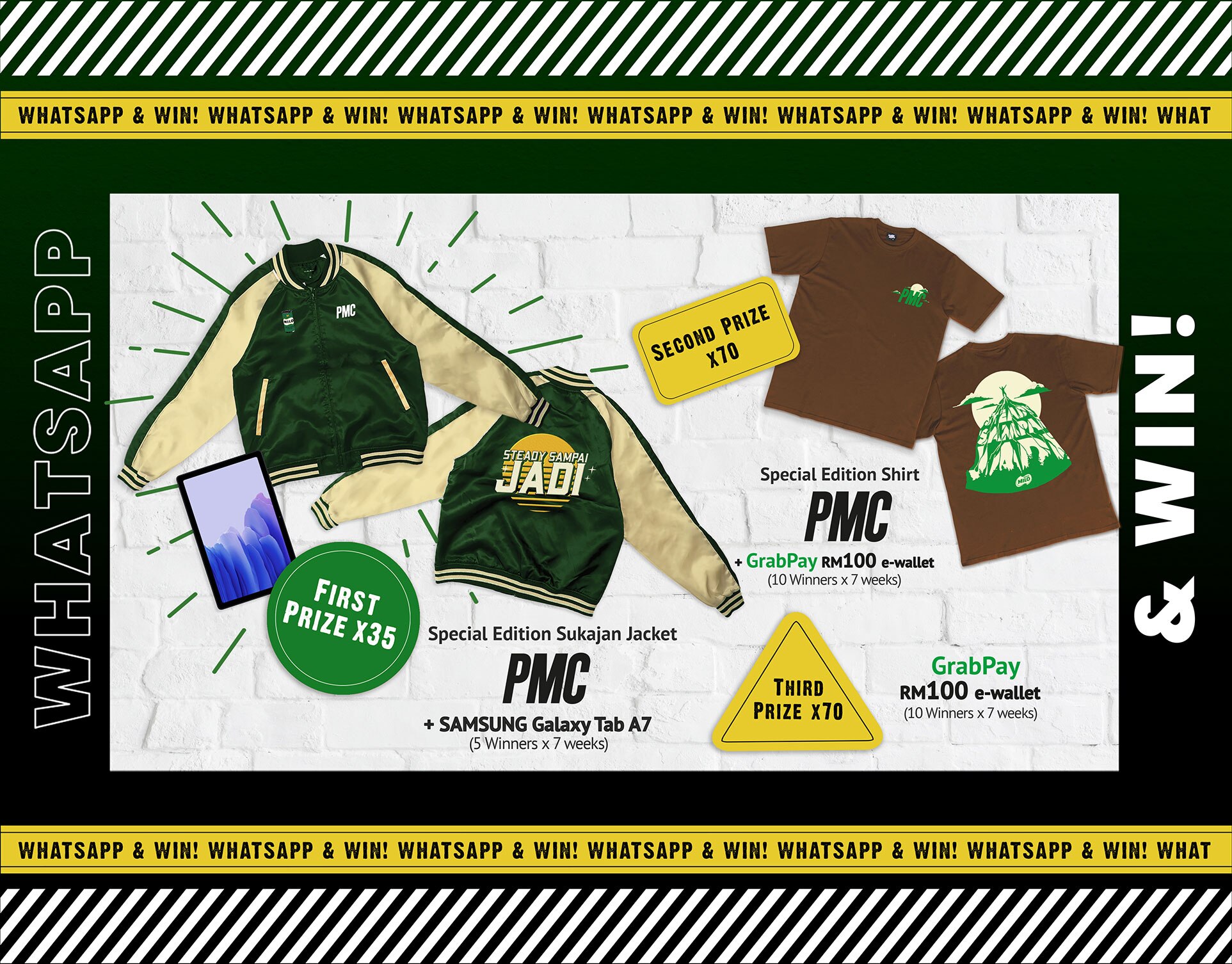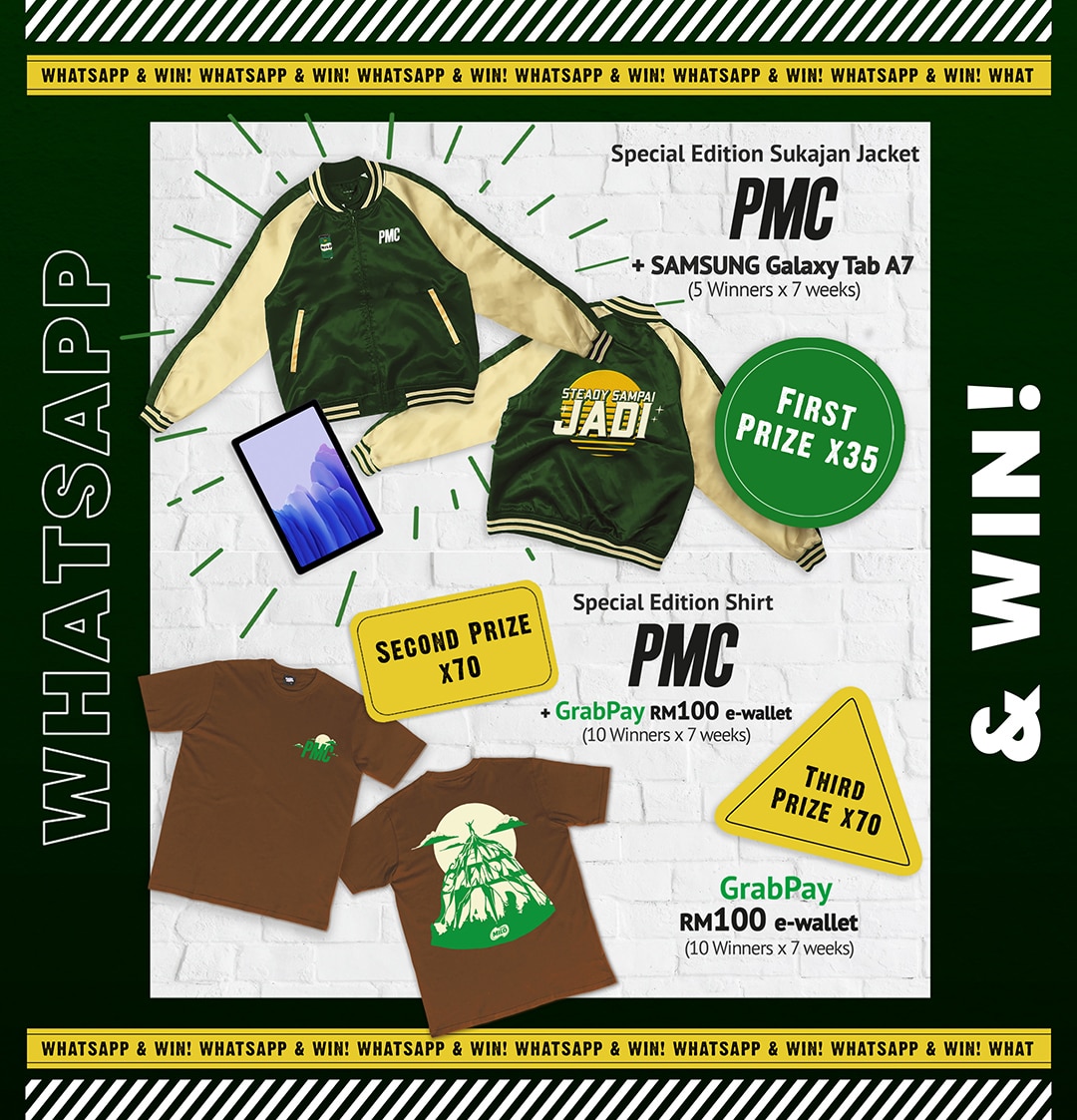 how to join
Follow these steps below to join the contest: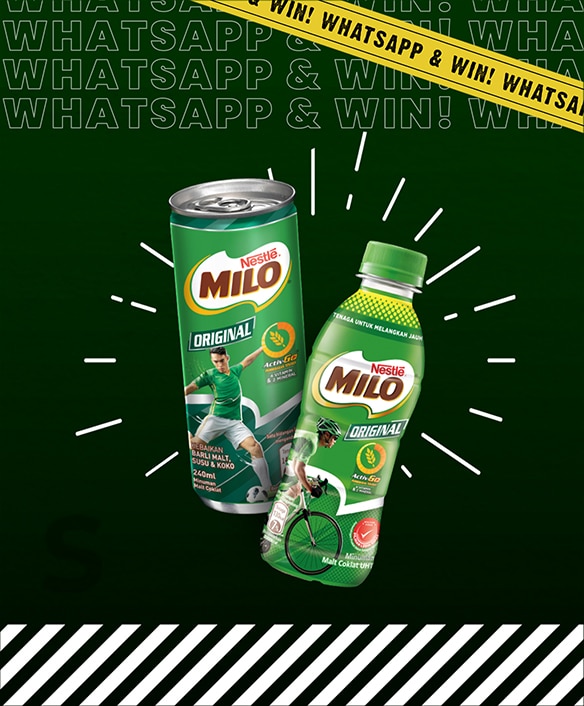 Purchase min 2 MILO® beverages - tins or bottles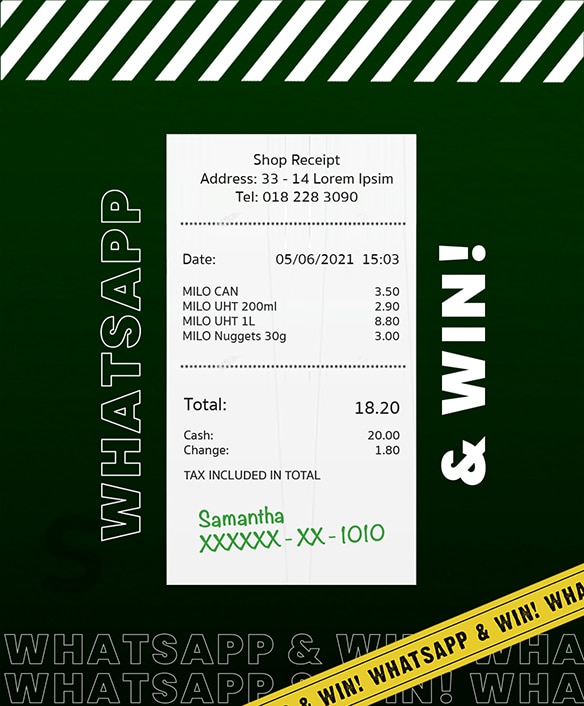 Write your Full Name and MyKad No. on the original receipt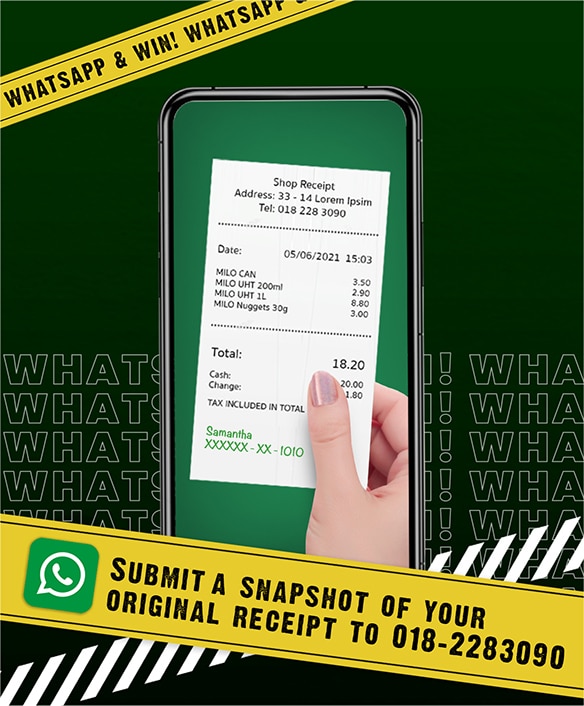 Submit a snapshot of your original receipt to 018-228 3090
WIN EXCLUSIVE PRIZES FROM SELECTED STORES

RM100 Grabpay e-wallet
AND
LIST OF FINALISTS
PLEASE NOTE: Delivery of prizes to the winners of MILO® X Pestle & Mortar Clothing Koleksi Inspirasi Contest will be delayed 6-8 weeks from the contest end date due to the Movement Control Order which is still in force. Thank you for understanding and apologies for any inconvenience caused.
| | |
| --- | --- |
| NAME | NRIC |
| 1. ABDUL ZAMIR BIN MOHD HANIPAH | XXXXXX-XX-5203 |
| 2. MUHAMAD LUTFI BIN ABDUL RAHMAN | XXXXXX-XX-5185 |
| 3. UNGKU ISKANDAR SHAH BIN UNGKU AHMAD | XXXXXX-XX-5187 |
| 4. MAZUIN BINTI MOHAMAD | XXXXXX-XX-5790 |
| 5. LEE YUET LING | XXXXXX-XX-5928 |
| | |
| --- | --- |
| NAME | NRIC |
| 1. TAN BOON HAI | XXXXXX-XX-6139 |
| 2. MOHAMAD YUSOF BIN MAT | XXXXXX-XX-5155 |
| 3. MUHAMMAD HANAFI BIN MOHAMED RASHEED | XXXXXX-XX-0511 |
| 4. TEO JUN LAI | XXXXXX-XX-5121 |
| 5. MOHD SOFFIYAN BIN IHSAN | XXXXXX-XX-5385 |
| 6. WAN KAMARUL ARIFFIN BIN WAN NAWANG | XXXXXX-XX-5399 |
| 7. HASANIYATUSSIMA BINTI HARUN | XXXXXX-XX-5154 |
| 8. ROHASLIZA MOHD HASNOL | XXXXXX-XX-5172 |
| 9. MOHD NAQSHABANDI BIN MOHD NOR | XXXXXX-XX-5369 |
| 10. IYLIA HANANI BINTI FADIR | XXXXXX-XX-5090 |
| | |
| --- | --- |
| NAME | NRIC |
| 1. MOHD. AZEERIN BIN MAZLAN | XXXXXX-XX-5795 |
| 2. TAN PING LEE | XXXXXX-XX-6282 |
| 3. MOHD AZROL BIN GAFOR | XXXXXX-XX-5287 |
| 4. EZANI BIN EFFENDI | XXXXXX-XX-5545 |
| 5. TING NGIK SIENG | XXXXXX-XX-5616 |
| 6. ANISA BINTI MOHAMED NOOR | XXXXXX-XX-6474 |
| 7. MOHAMED RASHEED BIN HASSAN | XXXXXX-XX-5547 |
| 8. NG CHEE HOW | XXXXXX-XX-6809 |
| 9. AHMAD RELAUDDIN BIN ISMAIL | XXXXXX-XX-5951 |
| 10. SUHAILI BINTI MOHAMED IDZWAN | XXXXXX-XX-5176 |