Be part of our #SkuadKebaikanMILO this Ramadan by giving #ParcelKebaikan to those in need.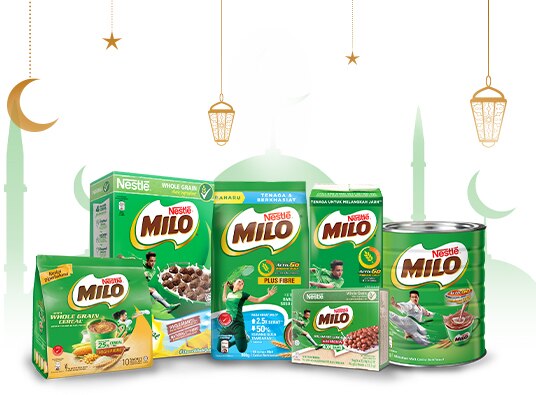 Though we are apart during these uncertain times, we believe kindness will keep us united.

Together, let's spread goodness by ensuring our families, friends, neighbours and those in need are well looked after. Be a part of #SkuadKebaikanMILO and let's use our energy to help each other during Ramadan with #ParcelKebaikan. The contribution period is from 5 April 2021 to 10 May 2021.
#ParcelKebaikan Bundles

Available in 4 different value bundles of Nestlé products, #ParcelKebaikan will be distributed to the needy through a collaboration with local NGOs. During the campaign period, for every 1 unit purchase of participating MILO® products on Nestlé Online Store on Shopee Malaysia, Nestlé will contribute RM1 worth of selected Nestlé products to charity in the form of Nestlé products.
Participating MILO®️ products are MILO®️ 200g, 400g, 1.5kg, 1 kg, 2kg , MILO®️ Activ-Go Plus Fibre 900g, MILO®️ Kosong, MILO®️ 3in1, MILO®️ with Whole Grain Cereal, MILO®️ Less Sugar, MILO®️ UHT 125 ml, 200ml, 1L, MILO®️ Can 240ml, MILO®️ PET 225ml, MILO®️ Cereal 80g, 170g, 330g 500g, MILO®️ Nutri Breakfast, MILO®️ Protein Granola, and MILO®️ Cereal Bars