RESPONSIBLY SOURCED AND CRAFTED
Nestlé Malaysia is proud to announce that we are the first Food and Beverage Company in Malaysia to innovate our packaged drinks to be more sustainable!

We have fully transitioned to 100% paper straws for our entire MILO UHT range. These new paper straws are environment-friendly and meet Nestlé's stringent product quality standards to ensure safety of our consumers. This initiative is estimated to eliminate over 200 million plastic straws per annum. 

While it may seem like a small step, switching to paper straws creates a significant impact on the environment. Let's be part of this sustainability effort! Together, we can strive for a better and greener world for generations to come.
Current Products with Paper Straws: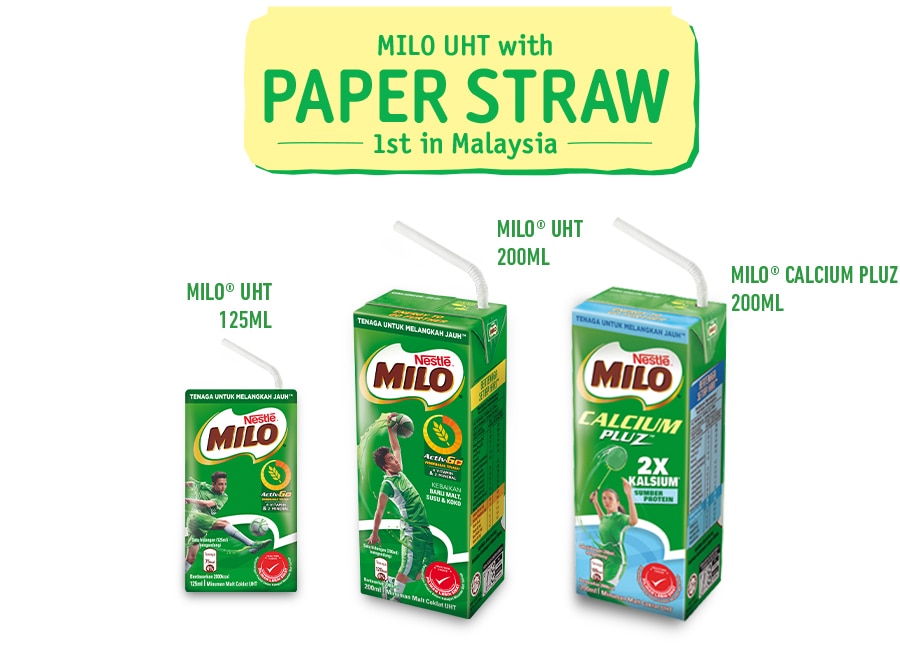 We source our paper from various suppliers around the world who comply with our stringent responsible sourcing guidelines and who supply FSC certified paper.
The entire MILO® UHT pack is recyclable after you finish drinking it. All you need to do is push in the paper straw when you're done and do these 3 simple steps:

Step 1 – Push the straw in

Step 2 – Flip the sides of the pack up

Step 3 – Flap the bottom of the pack

Step 4 – Flatten the pack, and put it into the nearest paper recycling bin!
The plastic wrapper is used to ensure the paper straws are protected from moisture and contamination, and are safe to be used when drinking.

Rest assured that the plastic wrapper that comes with the paper straw can be fully recyclable together with the pack.