Prizes worth more than RM550,000 to be won by more than 900 winners!

MILO® has been strongly present in Malaysia for 70 years now (since 1950) and has been a brand close to the hearts of Malaysians. Over the 70 years, MILO® has not only passed on the goodness of nutritious energy but also passed on the good values of perseverance and never give up spirit that drives you to go above and beyond.

To pass on the goodness, we would like to celebrate 70 Years of Goodness In 70 Days!

Grab this golden opportunity to join our MILO® 70 Tahun Kebaikan Dalam 70 Hari Contest and stand a chance to win cash prizes and exclusive MILO® merchandises worth more than RM550,000!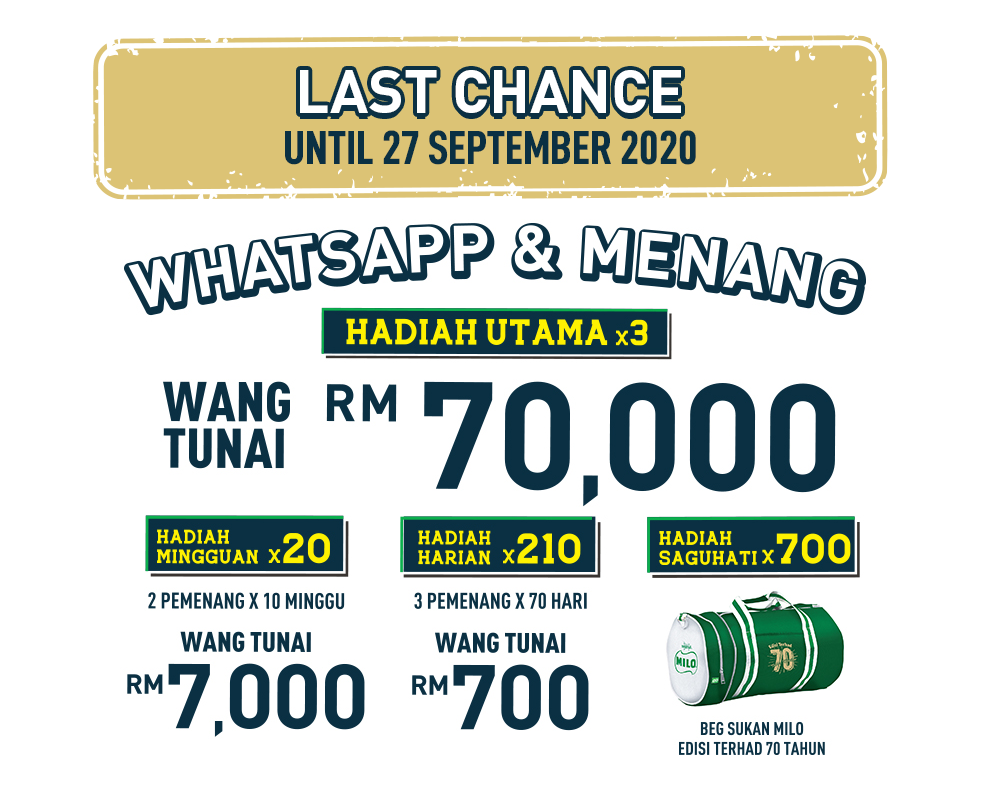 LAST WEEK TO JOIN BEFORE CONTEST ENDS 27 SEPTEMBER 2020
Follow these steps to participate in the contest:

Step 1: BUY
Buy min. RM15 worth of any MILO® Powder, Mixes, UHT, Cans or PET variant in a single original receipt from any outlet.*

Step 2: SEND
Write your Full Name, Identification No. and e-mail address on the original receipt and WhatsApp it to 017-336 0718**
70 Years of Goodness Winners

Congratulations to the winners of our MILO® 70 Tahun Kebaikan Dalam 70 Hari Contest! Thank you to all participants for joining. Don't forget to check the full name list of the winners below. If you see your name, don't forget to treat your family to something nice!

This list will be updated weekly every Tuesday until the end of the contest period on 27th September 2020. 
Cash Prize
RM 7,000
NURDIANA BINTI HJ BAKRI
xxxxxx-xx-5016
SITI SARAH BINTI MOHD AZAM
xxxxxx-xx-5080
Cash Prize
RM 700
HAZIMAH BT MD SIDIK
xxxxxx-xx-6170
MOHD ALI BIN AJEE BULLAH
xxxxxx-xx-5713
SYEERIL SUHAIRA BINTI RASHID
xxxxxx-xx-5744
JULIZA BINTI HAJI ABDUL RASHID
xxxxxx-xx-5134
MUHD AMINULLAH BIN SAK ARI
xxxxxx-xx-5127
SITI NOOR AINI BT SHAARI
xxxxxx-xx-5380
LIM MIN MIN
xxxxxx-xx-6196
SUHAIMI BIN SHAMSUDIN
xxxxxx-xx-5387
YOONG SIN FOONG
xxxxxx-xx-5170
BRIAN LIM CHOON WAH
xxxxxx-xx-5077
NOOR ZAKIAH BT AHMAD ZAINUDDIN ZAIN
xxxxxx-xx-5418
WAN AZMIRA BINTI WAN YUSOFF
xxxxxx-xx-5200
MOHD HAFIZI BIN MAT SALLEH
xxxxxx-xx-6083
ROHAPIDAH BT HARUN
xxxxxx-xx-5020
SABRI B RATMAN
xxxxxx-xx-5241
CHUNG MING LEE
xxxxxx-xx-5420
MUHAMMAD FARIZUL
xxxxxx-xx-5841
ROMANOV DEPY DAVID
xxxxxx-xx-5919
CHONG NGEK MIN
xxxxxx-xx-5407
GATRUAL A / P T B FERNANDEZ
xxxxxx-xx-5194
MOHD NAZRI BIN MD NOR
xxxxxx-xx-5681
Each Receipt is eligible to win ONLY one [1] prize from ALL three [3] MILO Contests running consecutively throughout the Promotion Period. The three [3] MILO Contests running consecutively are:
•    Peraduan MILO Koleksi Vintage, from 12/06 to 31/10/2020; 
•    Peraduan MILO Cari & Menang, from 06/07 to 31/08/2020 and
•    Peraduan MILO 70 Tahun Kebaikan Dalam 70 Hari.