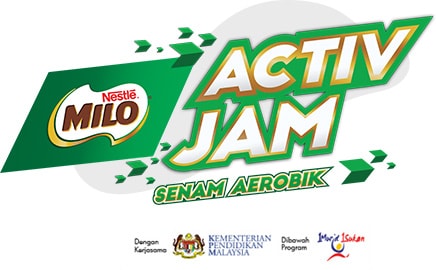 ACTIV JAM SENAM AEROBIK KPM-MILO® returns to continue encouraging students to get active while improving their physical fitness! Joining hands with the Ministry of Education Malaysia, this MILO initiative aims to drive sports at a grassroot level and cultivate an active lifestyle.
Competing among schools from all over the country, 10 teams will represent the school category while 16 teams will be selected for the Muhibbah category, to compete in the national championships.
HERE ARE THE 2019 FINALISTS:
1. SK TMN MEDAN, PETALING JAYA
2. SK PUTRAJAYA PRESINT 8 (2), PUTRAJAYA
3. SK PUTRAJAYA 18 (1), PUTRAJAYA
4. SK JASIN, MELAKA
5. SK LESONG BATU, MELAKA
6. SK TUNKU MAHMOOD, JOHOR
7. SK KG CONTOH, SABAH
8. SK BUKIT KALAM, LABUAN
9. SK PATAU-PATAU, LABUAN
10. SKJC CHI WEN, LABUAN
Winners from Activ Jam Senam Aerobik KPM-MILO 2018!
SCHOOL CATEGORY
First Place

RM5,000.00




(In the form of sports equipment)

Second Place

RM4,000.00




(In the form of sports equipment)

Third Place

RM3,000.00




(In the form of sports equipment)

4th - 10th Place

RM500.00




(In the form of sports equipment)
MUHIBBAH CATEGORY
First Place

RM5,000.00




(In the form of sports equipment)

Second Place

RM4,000.00




(In the form of sports equipment)

Third Place

RM3,000.00




(In the form of sports equipment)

Step 1:
Download & Record
Download the official song and show us your best aerobic moves while dancing to the beat.

Download Song
Step 2:
Upload Your Video
Upload your masterpiece to Google Drive

Step 3:
Register
Complete the registration form and include the link to your video via an email to activjam.kpmmilo@gmail.com
ONLINE REGISTRATION

March - July 2019
NATIONAL CHAMPIONSHIPS

20 - 22 September 2019