Make A Statement with MILO® Vintage Collection x Pestle & Mortar

MILO® has grown alongside our nation and has been a part of Malaysia's heritage for 70 years. As a tribute to Malaysians for playing a part in our journey, MILO® Cans is collaborating with Pestle & Mortar Clothing to give away exclusive merchandise.

Our MILO® Vintage Collection collaboration with Pestle & Mortar Clothing is a celebration of the things that make us unique through our individual journey. The things that we wear, collect and consume on the daily, is a statement of our individuality and personal lifestyle.

So we want you to join us in making a statement that represents your journey, your passion and your individuality.

Make a statement. Be all you can be with the energy from MILO® Cans and stand a chance to win exclusive merchandise!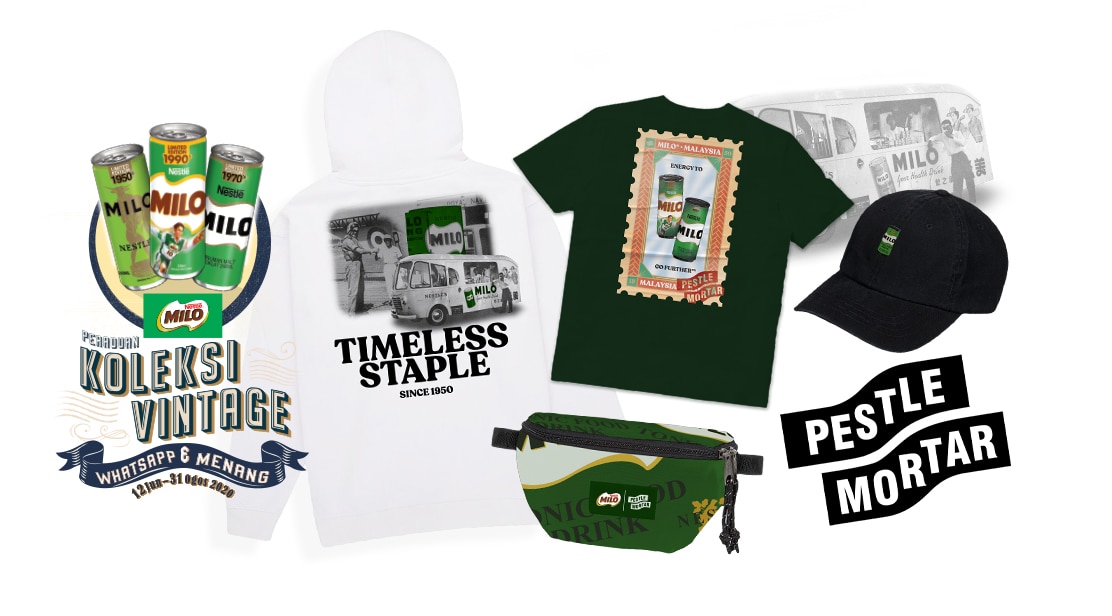 How To Join
Follow these steps to participate in the contest:

Purchase minimum of 2 MILO® cans and/or bottles.

Minuman MILO® Tin & Botol merupakan produk yang mengambil bahagian dalam peraduan ini. Betul atau Salah?

Write your Full Name, MyKad Number and Answer on the original receipt and send it to 016-430 2318.
You've won some swag!

Thank you to everyone who participated in our limited edition MILO® Vintage Cans x Pestle & Mortar Clothing contest! We can't wait to see you flex your style with our swag! Check below for the full winners list. This list will be updated weekly until the end of the contest period on 31st August 2020.

| | |
| --- | --- |
| NAME | NRIC |
| 1. ATIQAH BINTI ISMAIL | XXXXXX-XX-5590 |
| 2. AYU RAFIKAH MOHD AMIN | XXXXXX-XX-5190 |
| 3. HERNI POSMIZAH | XXXXXX-XX-5876 |
| 4. LIM KIM YUAN | XXXXXX-XX-0325 |
| 5. MOHD AIMI HADRI B ABD MANAN | XXXXXX-XX-5553 |
| 6. MOHD BADRULHISYAM BIN ASMAIL | XXXXXX-XX-5039 |
| 7. MOHD HISHAM SAHARUDIN | XXXXXX-XX-5103 |
| 8. NG KOK BENG | XXXXXX-XX-5681 |
| 9. NOOR ALIYAH SYAFINI BINTI ZAINI | XXXXXX-XX-5010 |
| 10. PHILIP KHO | XXXXXX-XX-5167 |
| 11. TIONG NGIK YING | XXXXXX-XX-5720 |
| 12. YEOH SOON GUAN | XXXXXX-XX-5749 |

| | |
| --- | --- |
| NAME | NRIC |
| 1. ANDREW TIE SIONG FU | XXXXXX-XX-6287 |
| 2. CRYSTAL TIE SHI JIE | XXXXXX-XX-0440 |
| 3. JURADYE BIN ABAT | XXXXXX-XX-5649 |
| 4. KAMARIAH BINTI NOR | XXXXXX-XX-5780 |
| 5. LO YI FUI | XXXXXX-XX-6062 |
| 6. MOHD AZEERIN BIN MAZLAN | XXXXXX-XX-5795 |
| 7. MOHD YUSOF BIN ALI | XXXXXX-XX-5085 |
| 8. MUHAMMAD FARDI ZUHDI BIN GHAZALI | XXXXXX-XX-5739 |
| 9. TAN LI JIAN  | XXXXXX-XX-0116 |
| 10. TANG HUNG KING | XXXXXX-XX-5306 |
| 11. TIE SIEW HENG | XXXXXX-XX-5531 |
| 12. UMI HAFSYAH BT ABD RAZAK | XXXXXX-XX-5896 |

| | |
| --- | --- |
| NAME | NRIC |
| 1. ABDUL ZAMIR BIN MOHD HANIPAH | XXXXXX-XX-5203 |
| 2. ALIF RIZUAN BIN KAMSANI | XXXXXX-XX-6605 |
| 3. AZWAN BIN KASSIM | XXXXXX-XX-5047 |
| 4. ELAINE FOONG SOOK YAN | XXXXXX-XX-5372 |
| 5. INTAN HUSNA BINTI ZULKANAIN | XXXXXX-XX-6562 |
| 6. KANAFI BIN SUKIR | XXXXXX-XX-7577 |
| 7. MUHAMAD DANIEL TAN BIN MUHAMAD KAMAL ZAN | XXXXXX-XX-5179 |
| 8. NORIMY BINTI MAT SALLEH | XXXXXX-XX-5132 |
| 9. POON CHUAN KEAH | XXXXXX-XX-5113 |
| 10. WONG SZE WEI | XXXXXX-XX-6012 |
| 11. ZAINOR HAFIZA BT ZAINORDIN | XXXXXX-XX-5044 |
| 12. ZULIANA AHMAD | XXXXXX-XX-5028 |