ENERGISE TOGETHER
Did you know that the iconic slogan 'Malaysia Boleh!' was coined by MILO® at the end of 1980. The goodness of MILO® has provided energy for the generations before and now the next generation is united in making Malaysia proud on the world stage together with the energy of MILO®.
PURCHASE MILO® AND WIN PRIZES WORTH MORE THAN RM600,000!
Celebrate the Month of Independence and Malaysia Day with MILO® and win prizes worth more than RM600,000! Fuel the spirit of Malaysia Boleh Bersama MILO® during this Independence Month by sharing even MORE of the Goodness of MILO® to our fellow Malaysians so that we are always energized to move FORWARD!
Winner categories will be divided into 5 lists: daily, weekly, monthly and grand prizes. Meanwhile, the 5th list is under the special winner category with LOTUS'S Malaysia.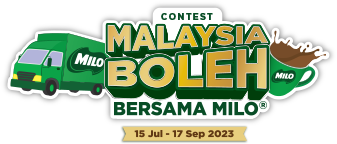 WEEKLY PRIZES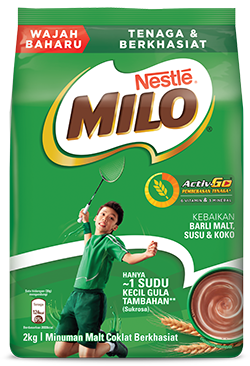 SUPPLY OF
MILO®* PRODUCTS
FOR A YEAR
worth more than RM500
*Winners of the Weekly Prizes will receive a Shopee code from MILO® via WhatsApp +60183228831 to redeem their MILO® products.


WEEKLY PRIZES
Week 1 - 5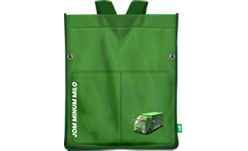 EXCLUSIVE MILO® BAG
worth RM99
Week 6 - 9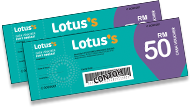 LOTUS'S MALAYSIA VOUCHER
worth RM100
Step 1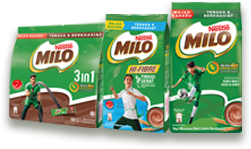 Purchase selected MILO® products* worth RM20 for 1x entry
OR
RM35 for 2x entries.
Step 2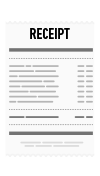 Take a clear picture of the purchase receipt.
Step 3

Complete the entry form on the MILO® website.
Join Now

Write your FULL NAME and IDENTIFICATION CARD NUMBER on the purchase receipt and send a picture of the receipt via WhatsApp +6018 322 8831.
WhatsApp Now
The winners will be contacted by MILO® via WhatsApp +60183228831. The selected winner must answer the questions posed by MILO® correctly to win the prize. Failure to answer correctly and/or failure to answer the given question within the time specified in the WhatsApp message will result in the cancellation of the prize.

*Terms and conditions applied
WINNERS LIST
Congratulations to all winners!

Please follow the instructions given by MILO® to redeem your prizes.
Weekly Winners
ANISSA BINTI MAZLI
017-XXXX381
BANI BIN TALIB
016-XXXX891
CHANG YIK LIIK
017-XXXX693
CHEN BEE HUA
012-XXXX968
CHIN QI WOAN
010-XXXX222
CHOONG JEN HOE
016-XXXX989
DWIE JATIMURNI BINTI SUNARTO
014-XXXX566
GOH YI TING
019-XXXX668
GURINAH GURASIM
011-XXXXX531
HAIRULNIZAM BINTI ABU HANIPAH
019-XXXX216
KE POH CHAI
017-XXXX180
MICHELLE TIE SHI YING
010-XXXX414
MOHAMMAD IDAHAM BIN AZMI
011-XXXXX644
MOHD FADZIL BIN MAANSUR
013-XXXX762
MOHD NAJIB BIN ABU BAKAR
010-XXXX469
MUHAMAD ZULFADZLI BIN ABDUL MALEK
010-XXXX661
MUHAMMAD ALIF ASYRAAF BIN BADARUDDIN
016-XXXX965
MUHAMMAD HAIRI BIN HISSAMUDIN
013-XXXX703
NIK NORZALIZA BINTI LONG HASSAN
018-XXXX909
NOOR IZZAH BINTI NOOR ZARI
011-XXXXX237
NOORAINI BINTI MOHD YUNOS
013-XXXX297
NOORAZIZAH BINTI AMAN
014-XXXX184
NOR HUSNA LAILI BINTI JAFAR
010-XXXX099
NUR AMANINA BINTI ABU OSMAN
013-XXXX063
NURUL SHUHADA BINTI MOHD JAFRY
017-XXXX199
ROBIAH BINTI ISMAIL
019-XXXX019
SEO CHIEW FAH
012-XXXX725
TAN BOON HAI
016-XXXX969
TEOH ENG HWA
019-XXXX218
TEOH WEE KEAN
012-XXXX942
Contest ends 17 September 2023.